Coins 4 Change
Camp 4 Cancer is starting a new fundraising initiative
Coins 4 Change
This year more than ever we need your help, COVID has prevented us from holding our major annual camping event and has also restricted fundraising in other traditional ways.
Could you spare $1 a week
We are asking people to set up a direct debit of just $1 a week, so that we can continue to support Peter Mac and their wonderful work in trying to find a cure for Cancer.
Coins 4 Change
Camp4Cancer has been able, with our supporters help donate over $200,000 to Peter Mac during the last 5 years.
We have also been able to raise funds to assist the Echuca Oncology Unit and we would like to continue to expand this support to other hospitals and their Oncology Units.
If you would like to be part of the change and assist us in our continued support for cancer research and cancer patient care, our account details are below.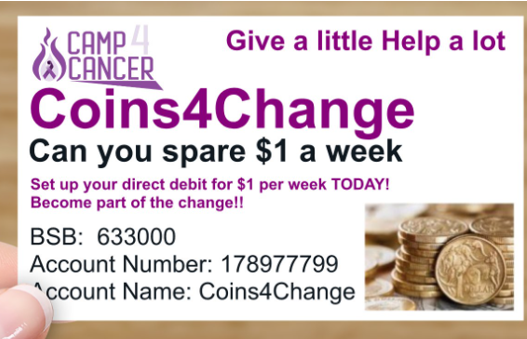 Thank-you for your support and being part of the CHANGE!!